Join the first Free Walking Tour in El Poblado, a guided tour without taboos!
Learn why this neighborhood became one of the most exclusive and sought in the city after being the first colonial settlement in Medellín.
Tour Description
We'll dive deep in the stories that the streets and corners of El Poblado tell us, highlighting "Calle 10", a street always alive and decorated with great murals (street art), surrounded by unique gastronomy, and legendary bars with pioneering sounds in the city.
This tour will take you to recognize "El Poblado" from a real, sincere and surprising perspective among all its cultural details and natural areas such as "La Presidenta" and "La Bailarina", its parties and the famous "Parque Lleras". El Poblado is much more than this, it is "the new center of Medellín" that stands out for attracting innovation, design, art, and international haute cuisine.
Discover from the hand of our local guides the cultural and nocturnal side of one of the most famous neighborhoods in Colombia!
Check out our tour details and click on the book now button below to join us!
Meeting Point
Find us right in El Poblado Park, next to the Police station with our red umbrellas!
Finish Point
Colombia Craft Beer
Schedule: From Monday to Saturday at 16:00
Language: English & Spanish
Origin of "El Poblado" as a trending neighborhood.

Iconic local bars where you can find crafted beer.

"La Presidenta" Park and its importance to the look and feel of El Poblado.

Big Format Murals of "La 10" and the messages behind them

History of Lleras Park and its transformation into a party space

Night Culture of "Medallo" so that you can enjoy it like a local

Innovation in textiles and fashion as a strong Colombian industry

And much more!
An open mind to understand our history and learn about our transformation processes.

Umbrellas or capes. Please bring your favorite rainproof coat or umbrella, we can't control the weather yet.

Water or your preferred form of hydration. This is a walking tour, and you may feel thirsty.

Comfortable shoes. You'll walk about 5 km while also making some stops to listen to the guide.

Comfortable clothes. No pressure to look amazing, feel free to wear what makes you feel better.

Keep your friends close, and your belongings even closer. We'll visit some crowded areas, so don't give papaya!
English-speaking tour guide

Accurate and objective knowledge of Colombian history. We promise not to take sides.

Sightseeing of essential places in El Poblado.

Craft beer tasting (when available).
Benefits and discounts with our recommended partners if you show our Free Walking Tour Map in our Linktree: https://linktr.ee/bcmedellin

Recommendations of local allies where you can have lunch, buy coffee, souvenirs, and more.
Drinks, food or souvenirs.

Transportation to and from your hotel.

Transportation in the tour. We'll be walking and taking resting stops.

Tickets or entrances. We won't take you to places where sudden extra charges apply!

Exclusive tour guide. Remember this is a shared tour, we're sure you'll meet new amazing people.
If you are a group of more than 4 people or if you want to take a private experience of this tour, let us guide you through this experience with an exclusive tour guide. Click the following button and request your personalized tour.
Once you send your request, please check your email for our confirmation and further instructions to enjoy your vacations to the fullest!
Reviews TripAdvisor
Take a look at some reviews that previous travelers have shared about our tour: Free El Poblado District Walking Tour!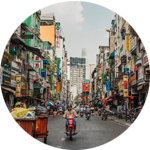 Real and effective information about the city! In the good hands of Manuel, a passionate historian who shows us the town in the best way! A smooth walk with good drinks and talks! Highly recommend! I am excited to do more activities with this company!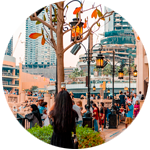 We took the evening tour of El Poblado here on a whim. Was walking by, saw the red umbrella, and decided to join in. I'm really glad we did, by far the best tour we have done in Colombia so far.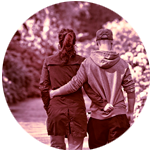 This was a fantastic tour!! Very thorough and the guide (Alejandro) made sure to find out what everyone was hoping to get out of the tour and address every single one of those hopes! I left with so much information and knowledge of El Poblado - the neighborhood: its history, its character, its culture, and several recommendations to boot. It's exactly what you would want out of a walking tour in a new city, and Alejandro was charming, kind and helpful! Definitely recommend!!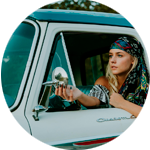 Excellent tour! It has a bit of everything, history, recommendations for food, drinks and places to have a good time. Manuel was an excellent guide who showed us very interesting and beautiful places and told us their history. El Poblado is a place rich in culture and history. I definitely recommend it a lot to know where to have a good time.
Amazing and wonderful tour guide!! Thank you so much Santiago, what a great time and very educational. I highly recommend these tours if you are visiting any city in Colombia.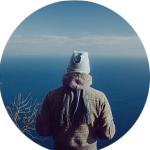 The tour of the Poblado neighborhood with Alejandro was incredible, we loved his knowledge of Colombian culture and all the advice he was able to give us, especially regarding restaurants and bars in the neighborhood! One of the best tours we have done, I recommend 200%
Do you want to live other experiences in Medellín or its surroundings?
Take a look at the other experiences you can have during your stay in the city. Make the most of your time with our Full Day or Half Day Tours, Nature and Landscapes, History and Culture or Nightlife and Party!